Submitted by
steven thomson
on Tue, 11/24/2009 - 07:00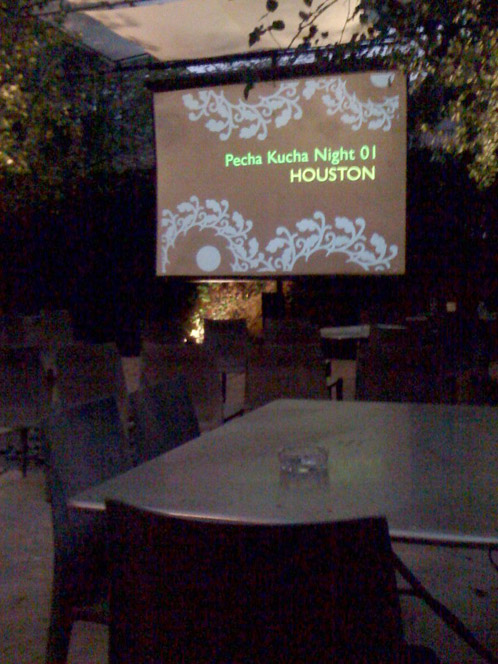 Over one hundred thinkers, innovators, and intrigued intellectuals crowded into the back porch linking bastions of indie culture Domy Books and Cafe Brasil last Thursday to participate in Houston's inaugural Pecha Kucha event. A mix of show-and-tell, open-mike night, and happy hour, Pecha Kucha has become the forum for ideas on design, culture, and a lot else that has swept the world in just four years. Originated by Tokyo-based Klein & Dytham Architecture, the event has now been established in over 200 cities globally. RDA played a role in launching the Houston event.
Each presenter is allowed 20 images, each shown for 20 seconds each – giving 6 minutes and 40 seconds of fame before the next presenter is up. This keeps presentations concise, the interest level up, and gives more people the chance to present. Think speed dating, but with an exchange of ideas rather than relationship baggage.
In the span of less than two hours, ten local cerebral-ties imparted their latest work and ideas. Their messages ranged from self-promotion to the truly provocative, such as Marisa Avelar's articulate synthesis of magic realism, dada, and Rauschenberg-esque combines in her graphics.
Pecha Kucha's global reach was complemented by a hyper-local approach by presenters like Phoenix Commotion's Dan Phillips and Gonzo 247's recounts of community organizing via graffiti collective Aerosol Warfare. A couple of the presenters verged on disarrayed (one student essayed, "I love, like, beautiful sights"), and yet Fernando Brave succinctly connected the matter of public transit policy, pornography in architecture, the art of Mark Lombardi, and jazz musician Anthony Braxton's use of images as song titles.
 
Photo by Steven Thomson
The evening concluded on a high note with RDA board member Christof Spieler's epigrammatic speech on the potential of commuter rail in the Greater Houston Area. Rather than feeling bombarded with information, the audience left craving more, and asking the question: will Pecha Kucha be the event that can finally galvanize Houston's community across design disciplines?
Steven Thomson is Retail Director at pH Design Shop and writes for The Menil Collection.