Submitted by
raul ramos
on Thu, 11/14/2013 - 10:42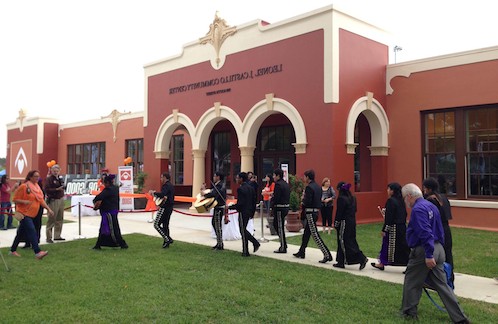 Leonel J. Castillo Community Center. Photos: Raul Ramos.
Original design by Alfred C. Finn (1919, 1920). Renovation by PGAL.
Situated on a hill at the confluence of I-45 and I-10 on the north side of Downtown, the new Leonel J. Castillo Community Center recently opened, looking like a beacon to the near future of Houston. A joint project of Neighborhood Centers and Houston Parks, the renovated former Robert E. Lee Elementary School scheduled its ribbon-cutting months ago. As fate would have it, the center's namesake and Houston Latino community leader passed away days before the event. The opening now took place between his velorio on Friday and the funeral that Monday, adding an unforeseen tone to the morning.
The center's large meeting hall was filled on Saturday with community members, Houston representatives, and the families gathered to celebrate Castillo's work and impact on generations of Houstonians. The opening became a tribute and commemoration of Castillo's life and the many intimate ways he affected people around him. It made the grand opening even grander, elevating the expectations of what the center can be.
The festival came with food trucks, folklorico dances, mariachis, and pony rides. The center's location puts it in a most ideal place to build community and connect neighborhoods divided by the highway. Neighborhood Centers of Houston had put significant resources and thought behind planning for the center, looking to make it a model program. It could become the link between the Houston Heights and the Near Northside. It sits at the top of a gently sloping field leading down to the recently completed bike trail from UH-Downtown to Stude Park. B-Cycle has a bike rental stand there, providing a nice ride to the next stand at the Stude Community Center. A lot is possible, but more is still uncertain about the center's ability to flourish and connect. Will it be the anchor for this corner of Houston that happens to come around with another bit of unforeseen timing --- the opening next month of the METRO light rail line that's only 400 yards away?
More >>>
Read Susan Rogers on the Gulfton-Sharpstown location of Neighborhood Centers Inc.