Submitted by
angiechen
on Thu, 04/05/2018 - 10:00
Rice Design Alliance is holding its 2018 architecture tour April 7-8 and publishing this series of edited interviews on the theme "Balance: Celebrating Women in Design." Sheryl Kolasinski is the Chief Operating Officer of the Houston Zoo. Angie Chen was a project manager for non-profit construction projects like the MATCH and Children's Assessment Center. She currently serves as Interim Executive Director of Rice Design Alliance.
Angie Chen: Tell us about how you came to be an architect?
Sheryl Kolasinski: I am originally from Pennsylvania. I studied art history and then architecture at Columbia University and practiced for years in New York. I did the usual things when you come out of school. I made models and drawings. I did the research on which faucet we were going to use, and all the fascinating details that go into the beginning of an architect's career, but very early on I departed from that. This was after I had received my license and was amazed it didn't open doors to doing all the fun stuff at the architecture firms I was in.
A friend of mine who worked for New York City said, if you are a little bit bored, why don't you look at city agencies? I thought, wow, what? I don't even know what that is. There were a series of openings in the New York City Department of General Services, now called the Department of Design and Construction, for being a project manager, for representing the agencies that needed architectural services. It turned out I had found my niche. The beginning of the process in an architectural project, in the pre-architect part of the process, was fascinating to me. Compared to my experiences as an architect in a firm, when I was part of a mission-driven client I got to set the agenda. I got to be part of the process of saying what projects were going to go ahead, what buildings were going to be built, what was going to go into that building when it was built, who was the right architect, and what kind of design process we were going to have. All of that front-end stuff that goes into creating the project in the first place has been for me a really fascinating part of being an architect on the owner's side, being a client-architect.
AC: Did you know very early on that you would go into architecture?
SK: No, when I went to college I wanted to be a chemist. [Laughter] I was a bad chemistry student, so I don't know why I was thinking that, but I also drew from an early age and was always drawing. Then I discovered art history at Brown University. I could not believe that I could be lucky enough to study that as a major. Of course, my dad said, you'll never get a job. That could have easily been true but happily it wasn't true. I worked for an architect's office when I got out of college. That drew me further into the profession and inspired me to go to grad school, but I had already [had an interest in architecture] because I had a wonderful, wonderful architectural history teacher (I took every class he ever taught), William Jordy. He was an incredible door opener into what exactly was all around you, a way of looking at the very place you lived.
Menil Drawing Institute south elevation. Courtesy Menil Foundation.
AC: What brought you to Houston?
SK: I came to Houston six years ago in May after 17 years at the Smithsonian. The Smithsonian was an incredible place to work with 19 museums and research centers, all of which needed architectural, design, engineering, operations, and maintenance services to one degree or another. We had buildings that were over 100 years old and some that were built brand new. So that was an amazing portfolio to work on but after 17 years and my son going to college, you can do something else. I was called about the Deputy Director position at the Menil Collection to work with them on building several things that we did build over the last five years — the new Menil Drawing Institute with Johnston Marklee, a new restaurant, a parking lot, and improvements to the landscape and their collection of bungalows. The broad portfolio of building types and the integration of the landscape which is so special at the Menil, was very appealing. And Houston was very appealing.
Now I am the Chief Operating Officer at the Houston Zoo. We are announcing our Centennial Campaign today. In four years, the zoo will be 100 years old. The wonderful president and CEO, and board of the zoo, have over the last two years been in the process of creating a strategic plan and physical master plan and a business plan, all of which supports doing some major improvements to the zoo between now and the 100th anniversary in 2022. We intend to open a series of multispecies exhibits that are exciting and in keeping with the great improvements to the zoo since it transferred from being a city-owned institution to a public-private partnership.
Houston Zoo Pantanal rendering.
AC: The transformation has been incredible.
SK: I have heard that over and over again from Houstonians. Even people who loved coming when it was an old-timey zoo decades ago really endorse the idea of the changes that have taken place. As we say, when you come to the Houston Zoo, you are helping to save animals in the wild. You are not only coming to an enjoyable place for seeing animals in a habitat, you are also connecting to those species in the wild and the conservation efforts we have with partners around the world.
AC: What brought you from the Menil to the Houston Zoo?
SK: The opportunity to be part of another great building campaign is irresistible. That's what I have been lucky enough to do for my whole career, to be part of the master planning process, then setting up projects, and then executing projects in fulfilment of a particular mission and vision for cultural institutions. What could be more fun than that? I feel incredibly lucky to have joined those kinds of things around the country. Houston is, you know, a great city with an unparalleled commitment to its cultural institutions. It is very exciting to be part of that, again!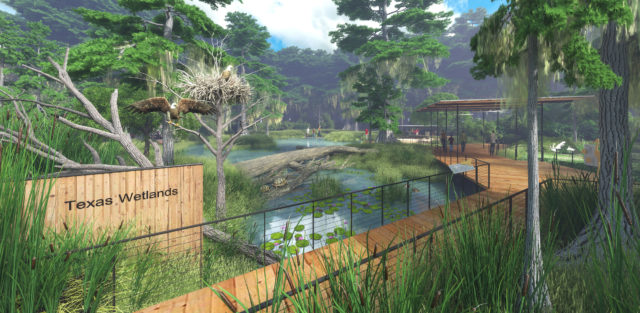 Houston Zoo Texas Wetlands rendering.
AC: You mentioned that you worked as an architect and achieved licensure and had expectations about working on various project types but it didn't quite happen. Talk about that a little bit.
SK: I graduated into the middle of a recession in New York City, always a tough and interesting time for young architects, but I did get employed. I have to say, at that moment in those firms, I did not feel that I had full participation in the direction of the firm, the types of clients pursued, the early design decisions, and even the interaction with the clients. I think it is still true that young architects are often, in larger firms, kept away from the clients. You know that experience you have in school of creating the project from the first minute it is conceived does not happen for you in firms. So, this opportunity to be on a different track was very appealing and instantly gratifying, honestly.
AC: You mentioned Bill Jordy. Were there other people who inspired you?
SK: That's a good question. A lot of the people who have inspired me in the kind of thing I do today are not architects. They are the people who illuminated the purpose of the work we do. I have known many fine public servants in New York City and Washington D.C., and many amazing scientists, curators, and historians who have been part of the projects I have worked on. It's really what they needed that gets to be the inspiring stuff. So many of them are in collaborative fields, where whatever they do, whether it is research, an exhibition, or a book, whatever kind of product they work on, is a collaborative product that draws on the talents of many different kinds of people not just one kind. I have found a lot of inspiration from them, but it is true that Bill Jordy started it off. He was one of those teachers that you often ended the semester on your feet applauding with tears in your eyes from how beautiful he made the world seem and it was a world you could participate in creating.
AC: Were there situations in your career where gender was limiting or enabling?
SK: Limiting, yes! [Laughter] In the firms I worked in, there were few if any women in leadership positions. I am positive that one of the things I found appealing about a more public service-oriented career was that there were more often women in leadership positions. In fact, I will mention an architect who was inspiring to me, Adrienne Bresnan, FAIA, who is an architect still in New York but is retired from the Parks Department. She showed me how not to be afraid to be a leader in a public institution where it is not that hard to get buried. There is a way to stand out too, which is understanding the mission and demonstrating to people what your ideas are for advancing the mission.
AC: Talk about that notion of not being afraid to be a leader. If you were to counsel a young architect, how do you do that?
SK: There are a couple of Smithsonian colleagues who come to mind in showing me how to do that, in showing me how to allow the people who work for me to have a voice and to be encouraged to show off even if it doesn't work out sometimes. I have come to understand that being a leader is about making it easy for people to do their best. It is not about what I do, it is about enabling other people. Some of that is training. Some of that is one-on-one counseling. Some of that is going to be allowing them to make hiring mistakes. Not making decisions for them is a good thing but guidance is also a good thing.
AC: Can you describe a moment in your career where you felt like you are there, you have arrived, you have achieved a dream?
SK: Oh...there are lots of proud moments. The one that came to mind is being part of the jury selecting the architects to design the Smithsonian National Museum of African American History and Culture. That was an amazing, uniting collective moment among so many people, to say yes, we are going forward with this, yes we want to bring somebody on board. In fact, it was a group of four firms. It was thrilling to see architects' responses to this very unusual commission, this once-in-a-lifetime commission to put a building on the National Mall. That has to be a real standout moment to be part of that.
AC: With so much coverage of gender issues right now, what do you think we should be talking about in architecture?
SK: Well, I don't want to call out specific individuals, but I am not surprised by specific individuals getting called out. Having been an architect in New York in the late 80s and 90s, and being close to a lot of people in firms with star leaders, anybody who says now that they didn't know what was going on is lying. What might be the case is that they didn't think it was so bad. No, it was bad, and it was going on. It is about time it was talked about. I don't think it is surprising that architecture is having its moment as the entertainment industry and other industries have had. It is a very male-dominated profession. Far more insightful analysts than I am have done a lot of work with the statistics about how young women leave the profession, never enter it in the first place, leave it once they have a family, and are unwelcome or unsupported in coming back afterwards. I think these have been commonplaces in our profession and I deplore it. Certainly, I am not the expert in that. It has been part of my experience that those things are difficult hurdles.
I think that one of things that has been important to me in my career is to see that architecture is not just one path. There are other countries where being an architect means being a good problem solver in many arenas. I think it should mean more here. It should be seen as good preparation for doing lots of kinds of things in many arenas. Certainly, that has been what architecture has been for me. Principles of project management, design, and understanding the city and landscape together inform what I do every day. I may not be the architect of the buildings of the Houston Zoo but to be among the leaders of the Houston Zoo it takes all of those things. That's my training, that's my contribution.
AC: How do you read the climate of Houston in the people and groups you interact with? Do you have a lot of peers as a woman in a position of leadership?
SK: The personality of Houston is so open to innovation and new ideas. That plays out in the architectural community with many fine women architects who are just fine architects and also that our schools have so much leadership from terrific women professors who happen to be just terrific professors. I have lived in New York, Washington, and Houston, and listened to the things that cities say about themselves and their personalities. What Houston says about itself — that it is an open city, a bring-what-you-got, don't-care-where-you-came-from, everyone-came-from-somewhere-else city — that's not a myth. That's really true. Houston is a bring it city. Bring me what you got. Show me what you got. Partly because Houston is so new, there isn't so much resistance to a motley crew that includes people from everywhere, women and men. It doesn't seem to matter as much in Houston in terms of being prejudged about what you are bringing to the party.
AC: What would be your advice to young architects or young female architects at that point in their career, where they have done five or ten years of architecture, and really looking for the door to open to do the cool projects and be involved at the levels you have been engaged in?
SK: Again, it goes back to not limiting the idea of what an architect is. To me, architects can operate in so many arenas. Bring it. My advice is bring it. If you can imagine it, do it. You think it would be cool to work in a museum? Be an architect in a museum. You think it would be cool to be an architect in a zoo? Be an architect in a zoo. There is a place for that.
AC: Any final thoughts.
SK: I can't wait to hear what other women say. This is an optimistic place and time. We have to make this an optimistic time in the practice of architecture. I think that is the flipside to having every profession bare its ugly practices. OK, then, let's turn it around. It's a moment for proceeding differently from here.